I finished my second blouse ever, and my first Oliver + S pattern! Yay me! Now that that's said, it's definitely not perfect. I couldn't visualize sewing the wrong side to the right side because my patchwork mind (that sounds like a blog title) can't comprehend anything but right side/right side seaming.
I did read the badskirt sew-a-long archive a few times, which helped me feel more confident. Too bad Emily was at QuiltCon this weekend probably having the time of her life because I was tempted to take her up on her very generous offer to help me! (Thanks!)
Everything went fantastic, I pressed and pressed and it looked amazing, but when it came time to sew the yoke to the bottom gathers, I stitched them together, decided it was wrong (it wasn't) and ripped the seam out (twice). That did not help my gathering! Then I decided I wanted to be done since I was so close, my parents were coming over, it was time to catch up on Downton… and just sewed both pieces together without pinning. So the yoke/bodice line is not straight .  I won't do that again. I also have some funny puckering going on around the top left of the yoke, and the fabric folds a little when worn… somehow I ended up with too much fabric there from my terrible seam.
Anyway, if you're thinking about making it, don't be afraid, the instructions were very clear! If I hadn't rushed and visualized those last steps, it would have been nearly perfect.
(Do most people learn how to sew clothes and things first, then quilt? I'm doing the opposite.)
Well, I learned a lot, and instead of being discouraged from venturing more into sewing clothes, I am ready to do another! It fits her, and the beautiful fabric (Joel Dewberry, Heirloom, in Roses) on my beautiful girl makes me smile.
++
On another note, I'm thinking of cutting into THIS awesomeness from Yuwa: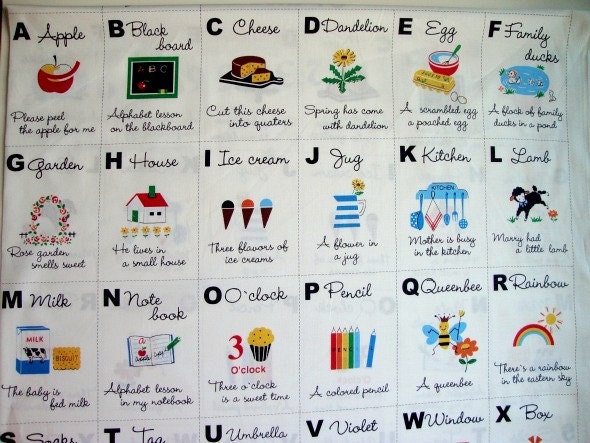 I have been afraid to cut it up since it's so perfect, and out of print. At first I thought I would simply add a scrappy border and make a wall hanging or quilt for my daughter, but is that really the best use? Seems kind of pedestrian. So, do I cut each square out and use it in patchwork, or would you cut the squares as needed and never mind the orientation of the text? Another thought would be to take the squares for my daughter's name since no letters repeat and incorporate it into a zakka quilt for her.  I would love your thoughts!
Linking up with: